Jack
A Mothers Perspective: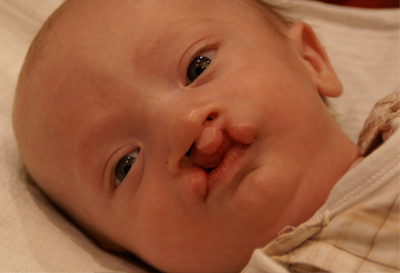 I had never heard of or seen a cleft before the day of my 20 week scan.
Jack is our first child, so on the day of the scan we were particularly excited and full of hope that everything would be perfectly normal. The absolute shock when we were told that we would be having a baby facially disfigured was overwhelming. It showed on the scan that Jack had a bilateral cleft lip and we were told that they were unable to tell if the palate was affected or not.
Straight away, I began imagining our child having to endure a life of torment and failure... of course is was not so, but my initial reaction was that I was scared. Very soon after being referred to the Cleft Team at Great Ormond Street we found an optimistic approach to the rest of the pregnancy, All the help and any information we needed was available to us via our own Cleft Team Liason. I was able to phone up other Mum's who had been through it and talk through any challenges that we might face once he was born and more importantly, there was always someone there to answer any questions I had, anytime, leading up to the birth.
We opted for an amniocentesis as we were told that there is a small chance that the cleft could be linked to a more complex 'Syndrome'. This, in hindsight, actually added anxiety to the pregnancy and it brought with it a slight risk of miscarriage, however, it also alleviated any worries we had about Jack being 'normal' as we could see from his chromosome count that they were all there. 
On the day of the birth, Jack's appearance was a shock to other people in the room, but thankfully not for us because we were prepared. We didn't realise it at the time, but he was born with a bilateral cleft lip and bilateral cleft palate. Unfortunately, due to being 4 weeks early and having the bilateral cleft and palate, Jack and I just couldn't get breastfeeding to work. It was clear from the outset. The delivery team said that if he couldn't feed straight away, then he was going to the neonatal unit immediately. Thankfully, it just so happened that a member of the Cleft Team was on the labour ward with another patient! She was quickly called and she was my knight in shining armour! Immediately, she produced a squeezy bottle and began showing me how to feed Jack by effectively forcing the milk down. The delivery team were happy and I was sent home to recooperate.
Over the course of the next 4 months, we established a good routine with feeding and I was expressing all the milk then feeding with the squeezy bottle. It did take a little longer than with a baby who can feed normally as he regurgitated 60% of what I gave him (a little frustrating when you have expressed it!), but neverthless, we were very lucky at the time that Jack was our only child. I could dedicate time to making sure that he was fed properly, and catch up with sleep when I could. I realise now that we have gone on to have 3 other children, this would not have been as easy with other siblings around!
The first operation to repair the Cleft Lip took place at around 4 months, a little later than the standard 3, due to Jack being premature. He is smiling with me in this first photo at Great Ormond Street minutes before Dr. Brian Sommerlad came in to the room to take him down to the operating theatre. The operation went really well, but it was a tense few hours as we knew he would look different when he came out. We had got used to him looking very cute just the way he was! He was in a fair bit of pain afterwards, but he healed so quickly.
 At 7 months Jack had his second operation to repair his Cleft palate. Again this went very well and being so young Jack was relatively unaware of what was going on. We had been told to wean Jack onto puree by this stage as he actually found it easier to be spoon fed puree straight after the operation as opposed to milk on it's own (the teat on the bottle made it sore to drink milk). So we began to give him water too and soon we moved back to the bottle, but made sure the milk was not at all hot, but tepid. He seemed so much happier now as he wasn't having to endure milk or food down his nose all the time.
At 8 years old Jack returned to Great Ormond Street for a final repair to his gum, the alveolar cleft. This involved taking a bone graft from his upper thigh and placing this into a gap in his gum so the bone could grow in and fuse the gap. This time Jack was obviously completely aware of what was happenning and was extremely brave and grown up about the whole procedure. After a few painful days and a couple of weeks of being off sport (the greatest hardship for Jack) he was back on his feet.
There will be dental work over the years to straighten his teeth, but hopefully he will only need one or two operations as he gets older (approximately 17), however this will be more of a cosmetic operation and the details will be decided nearer the time depending on how his face grows into adulthood.
We are so lucky in the UK to have all this expertise at our fingertips and to have the dedicated Cleft Team on hand. Jack's life would be so different if he had not had these opportunites.